Big News for little Stone Hollow Studio:
Early American Life mag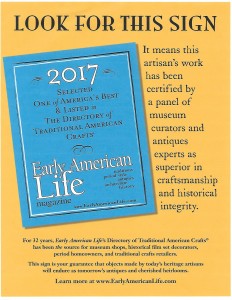 azine has announced the selections for the 2017 Directory of Traditional American Crafts—and it includes my scrimshaw!!
This is the 21st time that Stone Hollow Studio has been selected for the Directory.  I'm delighted and honored to again be placed in the company of the best traditional artists in the nation.  (Whoo-hoo!!)
The complete Directory was published in the August 2017 issue of Early American Life magazine.